The auditorium in DCU was packed to the rafters at the Challenger 2023 Graduation ceremony. Students and their parents filled the seats to celebrate their achievements during the year on the programme which supports them to achieve academic excellence and to continue onto third level education.
Student speakers gave the audience an insight into the programme, describing
6th Class Reading Club – Ross Duffy & James O'Connor
Cultural Tour of Glasnevin Cemetry – Kyle Mitchell
Croke Park Tour – Kyle Walsh
Lilliput Trip – Indie McDermott
1st Year DCU visit – Lia Farley
2nd Year Public Speaking – Zara Isik
2rd Year Gaeltacht – Erin Murray
4th Year Steps, DCU & Young Community Leaders – Ela Isik
5th Year Maths – Ela Isik
MC Declan Cahill kept proceedings moving and congratulating the speakers how passionately they presented Challenger.
Awards were presented to the 6th class Reading Club by author Lara Barry from Coolock Library. The 2nd Year Public Speaking certificates were presented by their tutor, Imedla Noone, Dara O'Cinneide  presented the Conversational Irish certificates, who climbed the steps of the auditorium repeatedly to save the students from having to come down. Well done, Dara on getting your steps in! Finally, our own Jeannette Beirnes presented Awards for Outstanding Effort to students from 1st to 6th year. Jeanette, who coordinates the Challenger Programme, was like a proud a mother hen with all her chicks!
Lawrence Van der Hagen from the DCU Access Service spoke passionately about encouraging Challenger students to continue their efforts to go to third level. She described the supports that are available to students to help them get to college, including Hear and Dare, as well as the supports they can expect if they attend DCU. Lawrence looks forward to seeing more Challenger Graduates in DCU in the coming years.
Challenger graduate Dylan Graham gave an honest account of his educational journey, explaining that changing courses was the right thing for him to do to get to the career he really wants.
The Lorcán Ó hÓbáin Educational Excellence Award was presented by our late chairman's wife, Anne Morris. Anne spoke of Lorcán's advocacy for educational progression, working as he did for his own PhD, and his passion for making education accessible to all in our community. She wished that the students meet good mentors and guides, and then presented the award to Sean Malone. Sean is a 1st year student in TU Dublin studying Architecture, having attended Our Lady Immaculate and Chanel College. Congratulations, Sean.
Jackie Duffy & Jonnie Kane are parents of 6th class students who spoke of their experiences of their children on Challenger and their own experience of the STEPS Personnal Development programme. Paul Hayes, Education Coordinator with Northside Partnership, presented the STEPS certificates to the parents.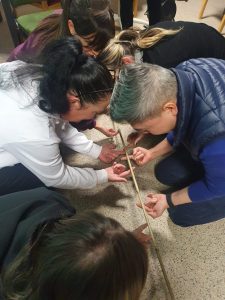 A wonderful evening of celebration was rounded off with refreshments, giving students and parents time to chat and mingle. Our thanks to everyone involved in organising the Challenger Graduation and the speakers, the parents for supporting their children on this journey, and most importantly, the students for getting stuck in.