Kilmore/Priorswood was launched as a Sláintecare Healthy Community site by Cllr. Dearbháil Butler deputising for Lord Mayor of Dublin Caroline Conroy in the Bell Centre, Darndale. Introduced nationally in 2021, Sláintecare Healthy Communities is a Cross-Government initiative to deliver increased health and wellbeing services in 19 areas of greatest need across Ireland.
The launch of the Kilmore/Priorswood Sláintecare Healthy Communities is the successful culmination of close collaboration between many partners. These partners include the Department of Health, the HSE, Dublin City Council (DCC) and local community organisations including Northside Partnership and Preparing for Life.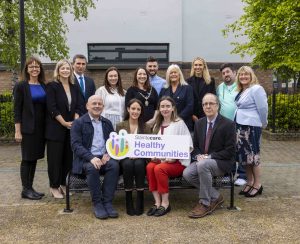 Cllr. Dearbháil Butler said, "The challenge of addressing health inequalities in our communities requires not only interventions to target particular health risks, but also a broad focus on addressing the wider determinants of health. To make real and lasting change we need to work together to create communities where people can thrive, putting in place the right building blocks for health, stable jobs, good pay, quality housing, good education and accessible amenities that enhance and improve our built environment."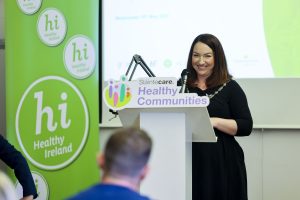 She continued, "Sláintecare Healthy Communities is a collaborative programme with DCC, the HSE and Northside Partnership where we all work together to ensure that our communities in greatest need are supported to live longer healthier lives. These are exciting times for the community in Kilmore/Priorswood and I look forward to seeing the great progress that has been made."
Speaking at the launch Ellen O'Dea, Head of Service, Health and Wellbeing Community Healthcare Organisation Dublin North City & County said: "Working in partnership with the local community to address health inequalities is a core principle of Sláintecare Healthy Communities. This programme is already providing people in Kilmore/Priorswood with access to evidence based and practical supports. Interventions like QUIT smoking services, supports to families such as parenting programmes, cooking and nutrition courses are already benefitting this community. I would like to thank Dublin City Council and the many community groups and organisations involved in supporting this launch, including the Northside Partnership. I am looking forward to seeing the benefit these meaningful health interventions bring to Kilmore/Priorswood."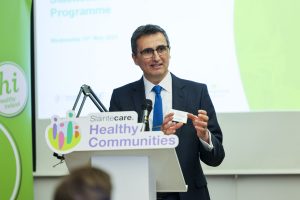 Paul Rogers, CEO of Northside Partnership, called on the government to further invest in communities. "Health inequality is not the responsibility of one department," he said in his address. "Income affects health choices and whether a person can afford to look after their healthcare." He went on to quote Mahatma Gandhi, "'The true measure of any society can be found in how it treats its most vulnerable members.' In a mature and wealthy economy such as ours, how do we treat our most vulnerable members?"
The event highlighted the Sláintecare Healthy Communities programmes that have been established across the Kilmore/Priorswood areas. The Healthy Community programme aims to support people's wellbeing within the community and provide better access to a range of services needed to help improve and promote healthier lifestyle behaviours. The work is supported by Dublin City Council's Local Development Officer, Fiona McDonnell and HSE Health Promotion & Improvement Officer, Paul Kirwan.
Kilmore/Priorswood Sláintecare Healthy Community programmes includes practical health interventions like:
Guests at the launch included Cllr. Dearbháil Butler; Ellen O'Dea, Head of Service, Health and Wellbeing, HSE Community Healthcare Organisation Dublin North City & County; Greg Straton, Sláintecare Healthy Communities Programme Lead -Department of Health; Paul Rogers, CEO Northside Partnership; Niall Sexton, Preparing for Life Manager; Georgia Mellotte, Community Food Nutrition Worker; Stephen Coughlan, Archways; and local resident Ger Redmond.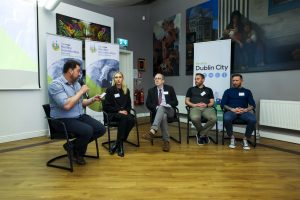 Tom James, Head of Health and Wellbeing, Department of Health said "There seems to be a real sense of empowerment for those who have become involved in the initiatives under the programme, showing the opportunities for real and positive changes for the people in this community.  All of these programmes you are talking about today are available free of charge to the people living in Kilmore and Priorswood and I'm reminded of what one of the participants said in another Healthy Community area – "very often the biggest step is just coming along on that first day".
The Making Every Contact Count programme has also been rolled out in the area. This programme enables and empowers frontline staff to learn more about lifestyle behaviours and provide them with skills to implement brief interventions to support service users in making behavioural changes as part of every consultation.
Dublin City Council was allocated funding of €250,000 by the Department of Health to support key community enhancement projects that will positively impact on the health and wellbeing of those who live within the Kilmore/Priorswood areas.
Local Development Officer Fiona McDonnell has been working with community partners and local groups to identify the health and wellbeing needs of the Kilmore/Priorswood communities. Fiona will continue to engage with all stakeholders and build a realistic and accurate understanding of the communities' priority needs and ways to address these through the seed funding.