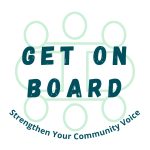 For community and voluntary organisations, finding the right board members and maintaining robust standards of good governance can be tough. On top of that, most community groups and organisations are working their way towards compliance with the Governance Code, a voluntary code of good practice for boards, committees and executives of not-for-profit groups.
Northside Partnership are here to help:
Organisations
Recruiting for Your Board?
Are you are thinking of expanding and strengthening your board and would like to involve more people from the local community? Get on Board participants may be a good fit.
The first step – create a clear role description, here is a template document

to help you

Send the role description to

info@nspartnership.ie

Your role will be shared with Get on Board Programme participants
Note: We are happy to share information, there is no obligation on either programme participants or organisations. We recommend a solid recruitment and selection process to identify the right candidate.
Volunteers
Volunteering on a board or committee is an opportunity to make a real difference to community groups and the neighbourhoods in which they work. If you are looking to volunteer your time, to take on a new challenge and have a meaningful community engagement experience, please contact the Local Development team.
Volunteers (new and existing) on boards and committees in our catchment area can receive free training and support from the Local Development team.
Thinking of Joining a Board?
Being a board member of a local group is be a great way to share your experience and voice for the good of your community. It can be hugely rewarding, delivering personal and professional growth, as well as real impact on the ground.
The Get on Board Programme supports people living in Northside Dublin to build their knowledge and confidence to join a board. You will learn about what is involved in being a board member and the opportunities available to you. The City of Dublin Education & Training Board provides training for members of the community who would like to serve on a board.
Get on Board 5 Week Programme covers:
Living in a democracy & active citizenship
Different types of boards and the role and responsibilities of a board member
Serving the community – what would be expected of me?
What makes a good board?
Am I ready to join a board and how do I start my search?
Please get in touch with our Local Development team by calling our Kilbarrack Reception on 01 8320995, or by emailing info@nspartnership.ie, for the attention of the Local Development team.