Community Coffee Morning


Date: 12th June 2023
Time: 11:00am
Location: Northside Partnership, Kish House, Greendale Road, Kilbarrack
Join us for a Community Coffee Morning to celebrate Healthy Eating Week!
Indulge in a delightful morning filled with conversations, laughter and of course some healthy treats.Connect with neighbours and friends and discover the joys of nourishing our bodies together. Let's embrace a healthier lifestyle as a community, fostering well-being and lasting connections. Mark your calendars and join us for this delicious and empowering event!
Air Fryer Masterclass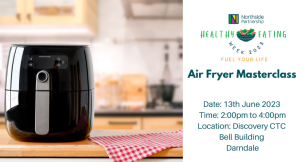 Date: 13th June 2023
Time: 2:00pm to 4:00pm
Location: Discovery Centre CTC , Bell Building Darndale
Healthy cooking made simple: our air fryer masterclass has got you covered.
Join us for a 2 hour workshop to discover how to create delicious, nutritious meals using the power of air frying.
Our guest chef Greg O'Rourke will demonstrate how to use an air fryer to make new and creative recipes for your air fryer.
We're also offering a chance to win a brand new air fryer! Simply enrol in the Air Fryer Masterclass, and you'll be automatically entered into the prize draw. The winner will be selected at random and announced on the day !
Mindful Meals and Movement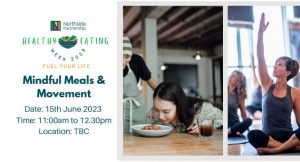 Date: 15th June 2023
Time: 11:00am to 12:30pm
Location: Glin Sports Centre
Join us for a morning of mindfulness by attending our yoga session and mindful meals talk. We will explore the practice of mindfulness in relation to eating habits and movement. This workshop is perfect for anyone looking to cultivate a healthier and more mindful relationship with food, and to explore ways to incorporate movement into daily life. Jackie Rynn , our Health and Wellbeing Coordinator will lead our Yoga session focusing on some beginner yoga poses, breathwork and relaxation.
Our guest speaker, will share her expertise on the benefits of mindful eating and provide practical tips and techniques to help you become more mindful when making food choices. There will also be a movement session led by a yoga instructor, which will help you connect with your body and cultivate a deeper sense of awareness.
During this workshop, you will learn:
The basics of mindful eating and its benefits
How to listen to your body's hunger and fullness cues
Techniques to overcome emotional eating
Simple ways to incorporate movement into your daily routine
This workshop is suitable for individuals of all levels and abilities.
We hope to see you there!
Dough & Grow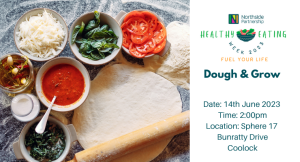 Date: June 14th
Time: 2pm
Location: Sphere 17, Bunratty Drive, Coolock
Dough & Grow is a fun interactive pizza-making event where you'll learn how to make your own healthy pizza from scratch! This event is designed to show you how to make delicious, nutritious pizza at home using fresh, whole ingredients grown from our very own garden in Coolock.
At the event, you'll learn how to choose healthy toppings, and bake your pizza to perfection.
The event will also be focused on sustainability where we will try and create pizzas with the lowest carbon emissions. It will also include a tour of the garden in Coolock and a number of fun games !
This event is open to all ages and skill levels, so bring your friends and family along and let's make some delicious, healthy pizzas together!
Event Registration- Full
Fake Away Friday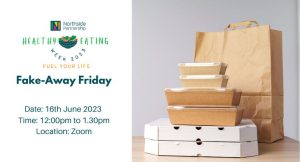 Date: June 16th
Time: 12pm
Location: Zoom
Join us for an online cooking demonstration where we will show you how to create delicious, healthy versions of your favourite takeaway dishes.
Ingredients for each recipe will be shared with participants prior to the event so that they can cook along with the demonstration. Additionally, a recorded version of the cooking demonstration will be made available after the event for those who are unable to attend live.
Location: Online – Zoom: Register Here