The Dr. Lorcán Ó hÓbáin Educational Excellence Award was presented to Chloe Kennedy, a Coolock native and graduate of Northside Partnership's Challenger programme, by the late Dr. Ó hÓbáin's wife, Anne Morris, at the Challenger Graduation on 21st June. Chloe is a 1st year student in Maynooth College studying Irish & Law and was a Challenger student from 2014-2020.  
"Challenger was an integral part of my secondary level education and without it I don't believe I would be where I am now. For this I am forever grateful," said Chloe on receiving the award. 
The award is presented based on having:
Completed the Challenger Programme

 

Attended first year in a Third Level College

Achieved a high Leaving Certificate points tally

 

Shown good attendance on the Challenger Programme over the previous 7 years

 

Demonstrated a commitment to actively volunteering or generally contributing towards the good of the programme

 

Shown a good attitude towards tutors and fellow students

 

Displayed characteristics that would make them a role model in their own community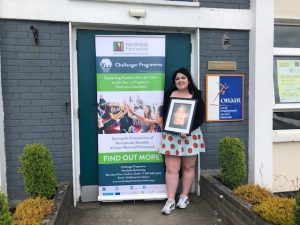 Northside Partnership celebrated the graduation of 20 Leaving Cert students from its Challenger Programme at the online ceremony. Awards were also presented for Outstanding Achievement and participation in various programmes. 
Challenger builds students' confidence and ability to reach their personal and academic potential. The programme provides structured support for young people from 6th class to 6th year to help them transfer from 6th class into secondary school; prepare for their Junior Certificate; complete their Leaving Certificate and encourage progression to third level education.  
Students get to avail of Reading Club, Public Speaking, supports in Irish, Maths and science, as well as access to the STEPS to Excellence for Personal Success and Programme4life programmes. 
Ela Isik, a 6th class student said, "Being part of Challenger has made me more confident both academically and socially. I am proud to be part of it!" 
"The Challenger Programme is a great support to me as a parent, according to Katrina Croker, Ela's mother. "It's a comfort to know that there are other people who are committed to my children's education. The Challenger team are ready with advice and guidance as the children navigate through school and on into college/further education. It is also a great financial help that the children get grinds through the programme in their exam years." 
Challenger is co-funded by the Department of Rural and Community Development and the Department of Education. The SICAP programme under the Department of Rural and Community Development, also receives funding from the European Social Fund under the Programme for Employability, Inclusion and Learning (PEIL) 2014-2020. The Department of Education funds the Challenger Programme through the Higher Education Equity of Access initiative.