SocialiSE Summit for Social Enterprises
Developed by the ILDN, the SocialiSE Summit aims to raise awareness, support and grow social enterprise in Ireland. Expert speakers, case studies, funders and local development groups and partnerships will share insights and their knowledge on a number of key areas for social enterprises. We look forward to seeing you at the event, where you will meet many like minded individuals and fellow social enterprises.
The SocialiSE Summit for Social Enterprises will take place on 29 June in the F2 Centre in Dublin. The event is free for social enterprise workers and those in the community interested in setting up a SE. Places will be limited so we recommend booking early at https://socialise_summit_2022.eventbrite.ie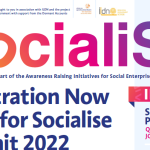 SocialiSE is a newsletter bringing you news and essential updates about the rapidly approaching SocialiSE 22 Summit to be held in Dublin on June 29th!