Young Community Leaders become certified Restorative Practice Facilitators
Eighteen young people participated in Restorative Practice training here in Northside Partnership's Kilbarrack offices over weekends and evenings in January and February. Over three and a half days the young people learned techniques to form and develop strong, healthy relationships and to positively manage difficult conversations.
The group was made up of this year's Young Community Leaders and the management committee of a local, voluntary youth club.
The young leaders who completed the entire training are now certified Restorative Practice facilitators and can, in turn, utilise their skills in encouraging restorative conversations, relationships, problem-solving and conflict-resolution in academic, professional, personal and community settings.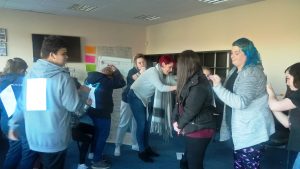 Almost all (93%) of the participants reported feeling that they will use Restorative Practice in their work in the community. Most (87%) said it would be useful in their personal relationships and at home.  Here's what some of them said: 
"The part of this course that I most enjoyed was learning how anger blocks emotions, I could relate to it and I realised its' OK to say you're upset".
"What I found the most helpful was not to blame someone and to think of a solution to get on with it."
"A key takeaway for me from this course is I can see things different now.  I realise to think of others.  I don't know their mind, they might be snapping because they're blocking stuff."
"I intend to use my new skills – try recall and remember them when dealing with a reactive situation when trying to build relationships and connect with people."
Aged 16-25? Interested in developing your leadership skills and getting involved in your community?
Young Community Leaders might be for you!
Find out more on our website https://www.northsidepartnership.ie/local-development/young-community-leaders/ or by emailing ycl@nspartnership.ie for a free information pack.