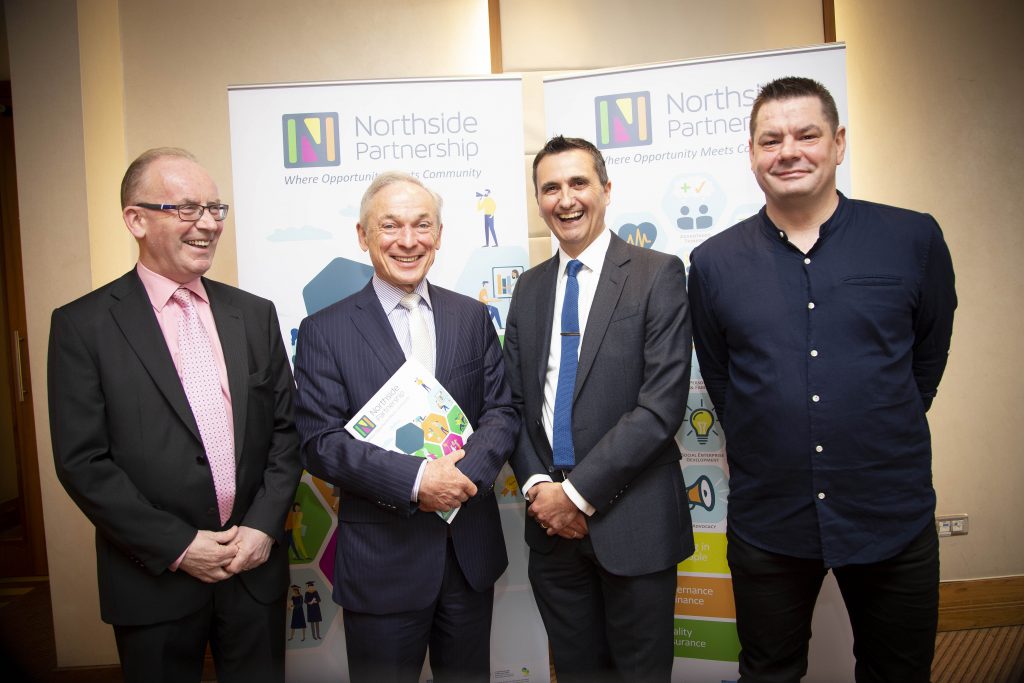 Minister for Communications, Climate Action and Environment, Richard Bruton today launched Northside Partnership's Strategy Statement that will direct and guide the Partnership for the next five years, putting Advantaged Thinking at the heart of everything it does. Advantaged Thinking focuses on identifying the key strengths and talents of individuals, organisations and communities to build their capabilities.
Minister Richard Bruton TD said; "Northside Partnership has always put people first and for over 25 years has empowered communities in the area in different and creative ways. Their new strategy captures what has been learnt over that time as well as new thinking and seeks to embed them in all aspects of their future work. This will ensure pathways of progress for anyone who participates in their many and varied services."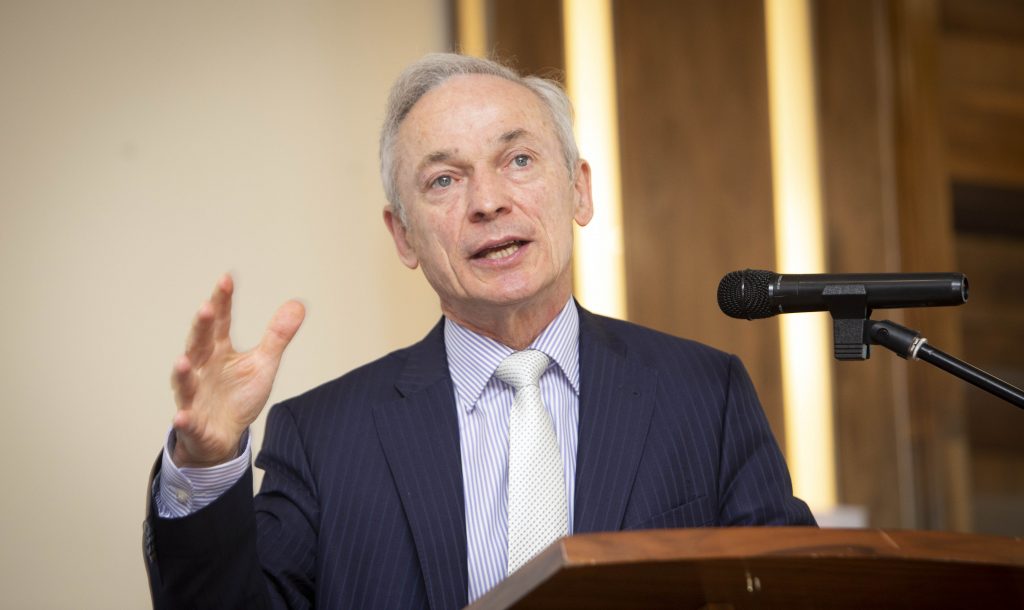 "Partnerships have always worked in a human-centred way. Putting Advantaged Thinking at the centre gives us a common practise approach across all programmes and services," according to Paul Rogers, CEO, Northside Partnership.
"In placing people at the centre of our services and supports we commit to working with them in identifying their needs but also their unique talents, interests and potential and strive to find opportunities through which their capabilities can be developed and ensure no one gets left behind," said Nessan Vaughan, Chairman of the Board, Northside Partnership.
Northside Partnership was established in 1991 under the then Programme for Economic and Social Progress as one of 12 partnership companies originally set up in areas of disadvantage.  The formation of Local Area Partnerships, as they came to be known, was a recognition of the challenge of intergenerational unemployment and spatial aspects of poverty and social exclusion that impacted upon certain communities.
Many things have changed over the course of those 28 years. Back then it was recognised that no one organisation had the knowledge, resources or capacity to address the many challenges that impacted upon the communities in which Partnership companies were established. Thus, the concept of Partnership, of working together with key stakeholders in identifying challenges and implementing programmes and solutions, was and remains, critical in addressing persistent poverty.
The primary goal of the strategy is Investing in People, Investing in Communities
Today the concept may be redefined in terms of co-creation or collaboration, but the principle is the same. Partnership is still a principle which Northside Partnership values. Yet the experience is that Partnership and collaboration has slipped down the agenda of the state when it comes to tackling poverty and social exclusion.
"It is our belief that more than ever we need to work in Partnership across the community, voluntary and statutory sector, to co-create solutions to the many issues that impact upon the communities we serve and those touched by poverty and social exclusion. We need to collaborate, as equal stakeholders, in building a better society in which every individual has equal opportunity to explore and identify their interests and talents and develop their potential," says Paul Rogers.
"Northside Partnership offers a really person-centred service"
Gary Nolan, a clerical officer in the Civil Service since earlier this year, had been long term unemployed before engaging with Northside Partnership. He participated in a number of the Partnership's programmes, including STEPS (a life-changing, motivational programme), Enterprise Workshops, Education, Jobs Club, One-to-One Support, Group Support and Financial Planning. "Northside Partnership offers a really person-centred service," according to Nolan. "The people I dealt with were genuinely interested in where my future might lie, what my skills and abilities are. They challenged some of the beliefs I had about myself."
The primary goal of the strategy, Investing in People, Investing in Communities, seeks to further integrate the current range of offerings available through Northside Partnership while also seeking to grow and develop new opportunities across the key areas that are essential to supporting individuals, families and communities achieve sustainable and quality lives. These include offerings in the areas of:
• Personal and Family development,
• Health and Wellbeing,
• Building social connections,
• Education and training, including community-based learning
• Employment, self-employment and enterprise development
The second goal, Investing in Our People, is an acknowledgement of the challenge facing the Partnership and how it must continue to invest in developing its own staff to ensure it continues to achieve excellent outcomes for those with whom it works.
Northside Partnership is committed to being an exemplar of good governance and quality assurance
The third and fourth goals, Governance and Finance and Quality Assurance, recognise the importance of maintaining public trust in its work but also in how it is governed, held accountable and the effectiveness of its systems, processes and procedures. The principles are an expression of Northside Partnership's commitment to quality assurance and the importance of external oversight and validation of its work. Northside Partnership is committed to being an exemplar of good governance and quality assurance. It has already made considerable progress in this regard and in November 2018 achieved the Excellence Ireland Quality Association Q-Mark award for the entire organisation.
"It is important to note that goals 2, 3 and 4 underpin and support Goal 1 and are critical to us in continuing our tradition and culture of innovation, collaboration and working in partnership to tackle challenging societal issues," continues Rogers. "A culture which continues today and is exemplified in our participation in a new pilot initiative under the National Traveller Roma Integration Strategy to support Traveller and Roma families keep their children in school. We see such initiatives as an opportunity to reach out to families, as we do through Preparing for Life, and place in front of them the full suite of services and supports available through Northside Partnership. In doing so we help to build relationships of trust that bridge and link family members into opportunities that will help them develop sustainable independent lives and help protect future generations from poverty and social exclusion."
This perhaps is one of key offerings of local Partnership companies and something that is perhaps unique to Ireland. The ability to deliver a range of services, at community level that are person centred and offer seamless referral across services to meet the needs of individuals and communities.