Financial wellbeing impacts our physical and mental wellbeing. The cost-of-living crisis has led to more and more people struggling to make ends meet and increased the likelihood of people taking on problem debt. Confronted with these external challenges, there is an opportunity to support people to build skills, knowledge and behaviours to improve their resilience, living standards and ability to navigate uncertainty so that they can be better prepared for financial shocks. A vicious cycle can develop where financial worries impact mental and physical health which in turn impact the ability to manage money.
Senator Marie Sherlock, the Labour Party's national spokesperson on Employment Affairs, Arts, Culture, Media and the Gaeltacht launched 'Financial Capabilities: A Framework for Integrated Delivery' based on the pilot Money Made Sense programme, a financial resilience initiative combining both group training sessions and one-to-one financial coaching. The programme was developed and delivered by Northside Partnership in partnership with Think-tank for Action on Social Change (TASC) and Money Advice and Budgeting Service (MABS), and with support from J.P. Morgan.
"Money Made Sense was developed through building on a 2019 report by TASC on the nature of household debt in Ireland," said Dr Shana Cohen, Director, TASC. "The report found that in 2019, people were already borrowing to pay their bills. The cost-of-living crisis will have exacerbated this situation. While this problem stems from systemic issues, financial resilience initiatives support people to build the skills and knowledge they need to better mitigate these challenges."
"The Financial Cap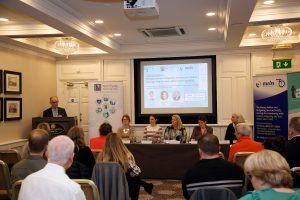 abilities Framework aims to provide a blueprint for organisations and services across the community who recognise the importance of and potential for integrating financial well-being into their service offerings," according to Angela Shafer, Financial Capabilities Co-ordinator, Northside Partnership.
The pilot programme worked with low-income households in the Northeast suburbs of Dublin between January and December 2021. The framework outlines a number of ways that financial capability initiatives can be designed for Ireland including with individuals, in workplaces, and through training the staff of community organisations and institutions to assist people on a financial resilience journey.
Evidence from the external evaluation report reveals that the Money Made Sense Pilot made an impact on the financial capabilities, financial resilience, and self-confidence of the participants.
"It is not just money, it's quality of life and mental health, you guys gave me back a sense of confidence and self-esteem," was the feedback from one Money Made Sense Participant.
The Money Made Sense Programme Evaluation Report is available here.
Ongoing research and the outcome of the pilot Money Made Sense programme shows that a large proportion of people can benefit from interventions specifically aimed at growing their levels of financial capability over time. The pilot showed that from 54 participants, 37 participants reported being able to save following the course with 20 of those being able to save for three consecutive months.  Of 25 participants who reported having debt, 19 reported an ability to pay down debt. Nine reported paying down more than 10% of their debt.
A recent OECD report highlighted the relatively low levels of financial literacy and high levels of financial stress experienced by individuals in their daily dealing with money and the low financial resilience across certain groups.
This is compounded by other analysis and data showing around one-third of adults report having a cushion of about one week should they lose their main income.
In the Question & Answer portion of the launch, calls for earlier financial capabilities training were made. Ireland is one of the only EU countries that does not have an financial capabilities education strategy. Attendees agreed that early intervention at second level would allow people to talk about finances and remove the shame often associated with a lack of financial know how.